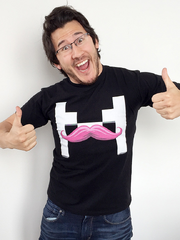 Mark Edward Fischbach
Mark Edward Fischbach (born June 28, 1989), known by his YouTube username Markiplier, is an American Internet personality. Originally from O'ahu, Hawaii, Fischbach began his career in Cincinnati, Ohio. He is currently based in Los Angeles, California.
As of November 2015, his channel has over 10 million subscribers, over 3 billion total video views, and is the 38th most subscribed channel on YouTube. Fischbach specializes in Let's Play gameplay commentary videos and indie games, commonly of survival horror and action video games.